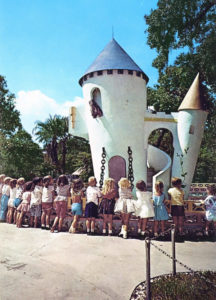 For Tampa Natives, Fairyland in Lowry park zoo was a fond childhood memory. The attraction opened in 1957 and was a staple in the lives of many local children. Called a "Storybook Park for Children," Fairyland brought life to characters such as Peter Pan, Snow White, the Three Little Pigs, and more. Spread over 15-acres, Fairyland was expansive, imaginative, and a part of the local experience. The theme park was a fun and free attraction for the whole family to enjoy.
In 1988, Fairyland was revamped into The Fairy Walk at Fun Forest. Many of the figures and sets were remastered and some were replaced entirely. Unfortunately, the revival didn't last long. Lowry Park was paving way for a new attraction- the Zoo School. By 1999, all the Fairyland figures were removed from the zoo and either auctioned off or sent to storage where they would remain for almost twenty years.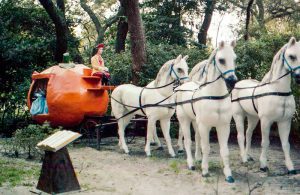 It wasn't until years later when Mario Nunez, a Tampa native, got curious about what had become of Fairyland. He and his wife, Sally, tracked down the pieces and brought them back into the public eye. Fairyland became once again a topic amongst natives and even appeared on Fox 13, reminding those who had once adored Fairyland about their childhoods. Luckily, Nunez had a friend in a prominent figure in Tampa Bay- Richard Gonzmart. Gonzmart owned a chain of restaurants, most notably The Columbia Restaurant and had a deep interest in Nunez's plans for Fairyland. Gonzmart had plans on opening a new restaurant called Ulele and thought that some of the iconic Fairyland pieces would be the perfect additions.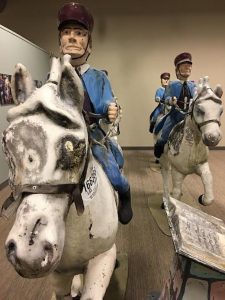 30,000 dollars later, Gonzmart had bought several of the Fairyland pieces at an auction. Humpty Dumpy, The Three Little Pigs, and men riding horses were now once again allowed to be shown to the public. Now that Gonzmart had the pieces, a restoration was in order. The restoration project began in 2017 and is still ongoing. Jason Hulfish and Grand Theming Studios is rebuilding and re-painting the figures better than they've been in decades. Humpty Dumpty and the Three Little Pigs are the most notable completed makeovers as of late. The journey is still ongoing and soon, Fairyland will be restored in a new light for yet another generation to appreciate and pass down to the next.
Restoring 'Fairyland'

Jack and the Beanstalk. Humpty Dumpty. The Three Little Pigs. Once upon a time in Tampa, these storybook characters frolicked near the Hillsborough River at a place called Fairyland. After closing in 1996 at Lowry Park Zoo, the fabled figurines disappeared, but the memory of times spent at Fairyland lived on in the imaginations of Tampa residents.Those figures have found a new – if temporary – home at the Tampa Bay History Center."Finding Fairyland: Rediscovering Tampa's Lost Theme Park," opening Saturday, will feature many of the original sculptures from Fairyland, on view to the public for the first time in 20 years.The exhibit is made possible by Columbia Restaurant Group 4th Generation President/CEO Richard Gonzmart, who purchased the collection of Fairyland sculptures from the city of Tampa after they were discovered in a city storage facility.Gonzmart is restoring 11 scenes from classic fairytales with plans to put them on public display.The exhibit will also include family photos taken at Fairyland over its more than 30 years in existence. Photos can be submitted to fairylandexhibit@tampabayhistorycenter.org. "Finding Fairyland" is on view through May 21. For more information, visit TampaBayHistoryCenter.org, or call 813-228-0097.

Posted by Ulele on Friday, March 17, 2017
Read More about Fairyland
https://www.tampapix.com/lowrypark.htm
Restored Pieces
http://www.ulele.com/fairyland/