Theming
We can custom design your facility with a completely unique theme. Our professional in-house design team will turn your ideas into reality.
Signage
If you have a lobby, you need a wall sign. Turn your logo into a piece of art. We offer custom 3D signage & dimensional letters.
3D Sculptures
We specialize in custom fiberglass sculptures. Our well-crafted pieces will add something special to any event, home, or business.
Murals / Wallpapers
Turn heads with a custom wall mural inside or outside your business. We offer incredible hand-painted murals and high quality wallpaper options.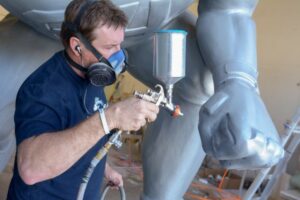 Jason Hulfish is a Tampa-based entrepreneur, renowned muralist, furniture designer, and professional artist who began designing T-shirts, which launched him into elaborate custom design work for both residential and commercial spaces.
read more